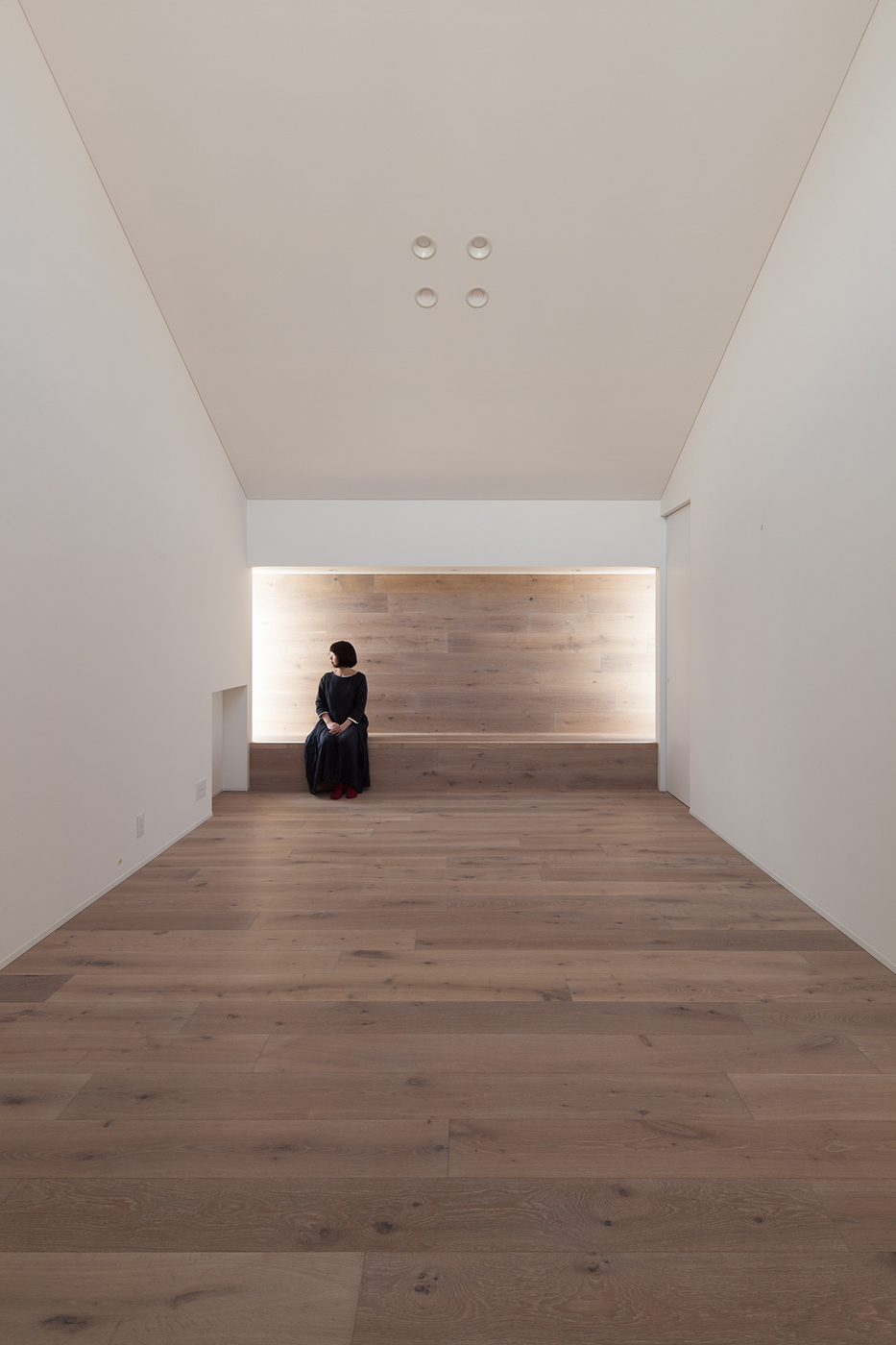 category:HOUSE
year:2017
site:Chiba,Japan
Floor area:104.94㎡
Photo:Kaku Ohtaki
noda house
場所は千葉県野田市の新興宅地開発地区で、極めて低密度な郊外型の宅地でした。近くには明治時代に作られた運河、それに並行する長閑な緑道があり、かつてあったであろう農村の香りを残すまちの姿は、東京都市圏の郊外でありながら、どこか牧歌的な雰囲気が漂う場所であるというのが最初の印象でした。
noda houseでは、主に2つのことを考えました。
はじめに考えたのがこの場所にふさわしい家並みをつくり出す仕組みを考えることです。
この住宅は建売住宅のプロトタイプであり、このプロトタイプ建設後に間取り等は異にしながらコンセプトを共有する住宅を、連続して建設するという前提がありました。それを踏まえて、統一感とリズムのある家並みを実現したいと考えました。まず、経済的合理性が求められる建売住宅という前提に対しては全体をシンプルな平屋の家型とすることで解答し、次に内部に機能を持たせた「木のボックス」が家型に複数取り付く構成としました。この住宅における「木のボックス」は、リビングに光を取り込むニッチであり、屋上テラスへの動線となる階段室です。
同じようなものが建ち並び、家並みを形成する中で、この「木のボックス」がそれぞれの住宅の機能に応じて、様々な位置に立体的に取り付くことにより、家並みにリズムを与えると考えました。
次に考えたのが住宅の中に生産の場を復活させることです。
かつての住居には土間や納屋などの生産の場がありました。農作業や自らものを作ったり修理したりする等の生産行為を支える空間です。牧歌的で自然に囲まれたこの場所では生産の場のようなものが、ここでの生活を豊かにする契機になるのではないかと考え、玄関から土間続きの、多くの行為を許容する空間を設けています。壁はDIYなどのラフな使い方を想定しラワン合版で仕上げています。また、薪ストーブを設置しセカンドリビングとしての使い方も想定しています。
新興住宅地に生産の場を復活させることで、現在の住宅が失われた生産性を取り戻し、生活を豊かにするきっかけになるのではないかと考えています。
noda house
This building is located in a newly developed residential estate in a considerably low-density suburban area of Noda City, Chiba prefecture. A canal constructed in the Meiji era can be seen in its vicinity, along with a serene pedestrian path surrounded by greenery running parallel to the canal. We were first struck by this area's rural quality which is no doubt an echo of its past, as an idyllic atmosphere lingers in the air despite its location in the suburbs of the Tokyo metropolitan area.
In designing noda house, we had mainly focused on two things.
This first was to formulate a plan for creating houses that are perfect for this area.
This house is a prototype for built-for-sale units, and the idea was to build houses with the same concept but with different floor plans in quick succession once this prototype has been completed. In view of this, we wanted to create a row of houses that are dynamic and which exist in harmony. Firstly, we decided to go with a simple one-story structure in response to the economic rationality demanded by built-for-sale units, before equipping the interior of the house with multiple "wooden boxes" that are highly functional. The "wooden box" in this house is unique for how it allows natural light to filter into the living room while serving as the stairway that provides access to the roof terrace.
We believe that in the course of building similar units next to one another to form a row of houses, this "wooden box" can give the houses dynamism by creating a three-dimensional quality in various locations based on the respective functions of each unit.
The second thing was our attempt to revive a space for production within the house.
Dwellings in the past had production-centric spaces such as dirt-floor areas and barns. These spaces support agricultural and production-based work such as making and repairing one's own items. We thought of making the most of this location's idyllic setting where nature abounds to create production-centric spaces that can enrich the daily lives of people. As such, we reserved the space from the entrance to the dirt-floor area as one that can be adopted for various purposes. The walls are finished with Lauan plywood to facilitate more rustic uses such as DIY work. Our design also makes it possible for this space to be converted into a second living room by installing a charcoal stove.
We believe that the revival of production-centric spaces in new residential estates can be a means by which we recover the spirit of production that modern homes have lost and make our daily lives more vibrant.